Explore
The

World

of Atlasia

A monthly magazine for Muslim kids ages 7-11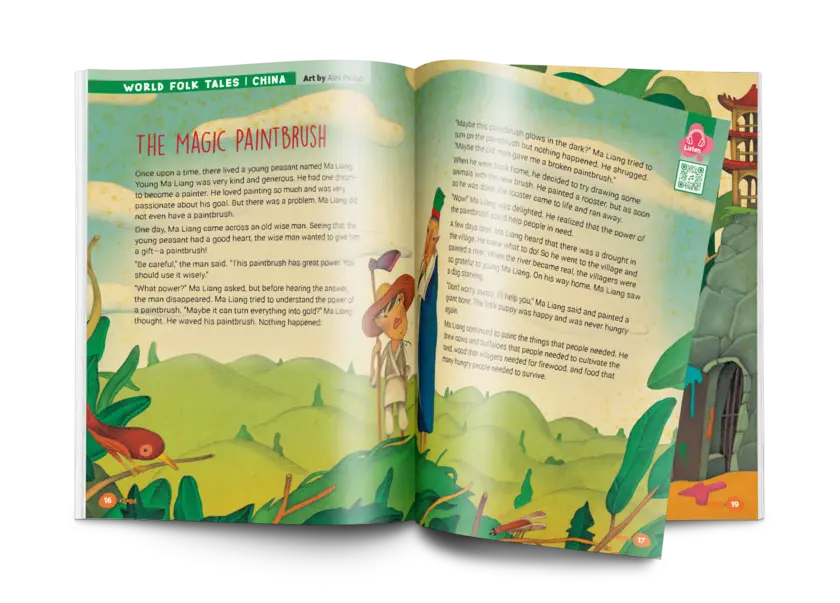 Read
Boost up your imagination with wonderful stories and folktales from around the world!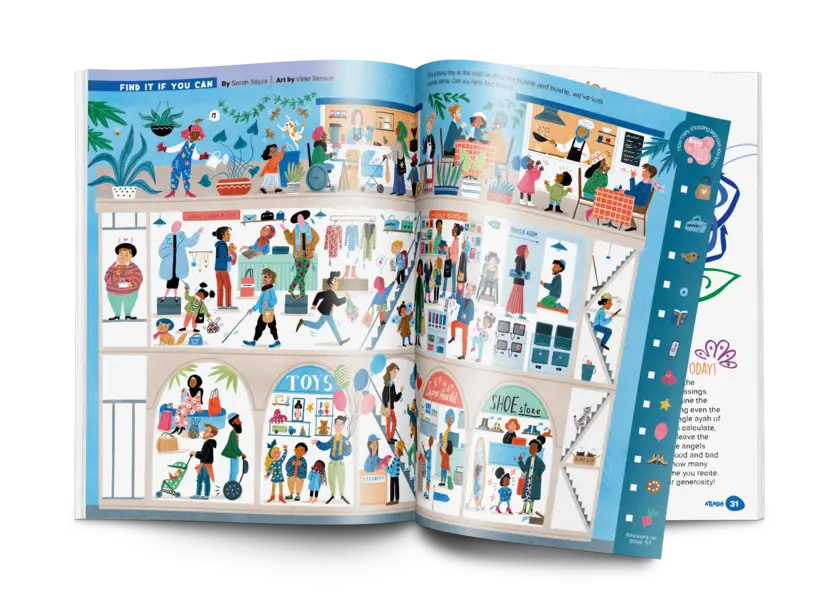 Have Fun
Dive into fascinating tours in nature, challenging puzzles, games, and fun DIY projects.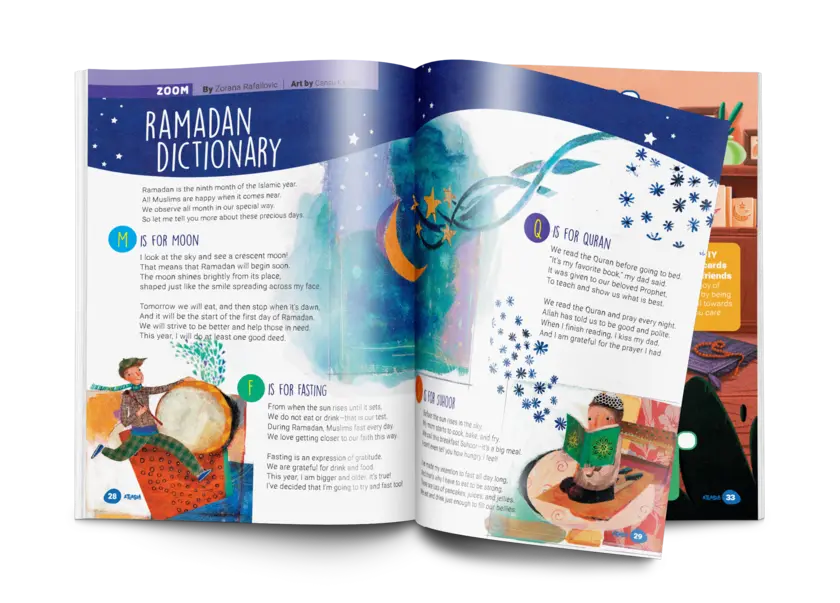 Learn
Discover the Beautiful Names of Allah and the life of our beloved Prophet Muhammad (pbuh)!
Check out our
Our latest magazine issue is full of new stories, folktales, inspirational poems, awesome comics, funny jokes, gorgeous illustrations, games, and much more - all made for Muslim kids!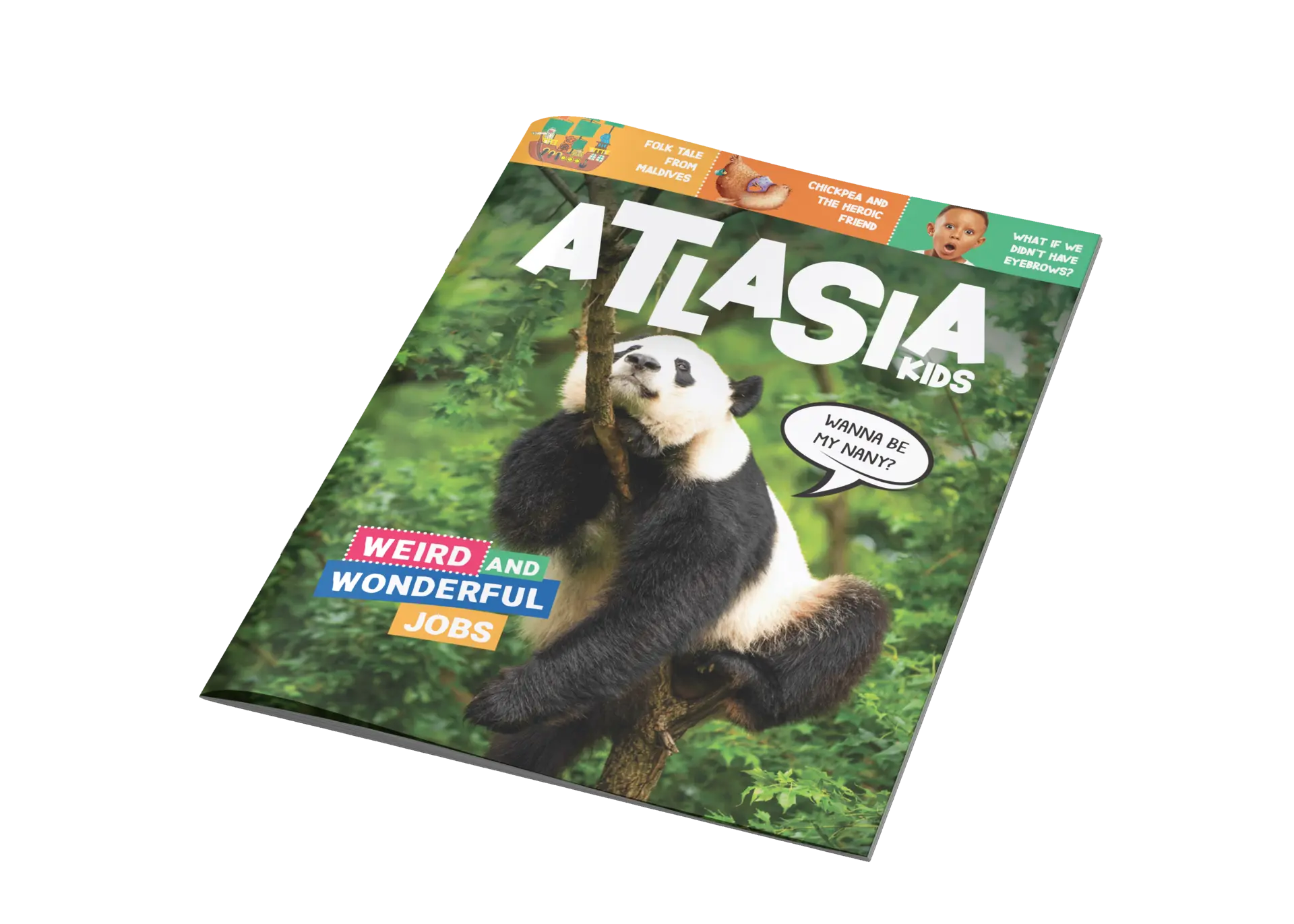 What They Say
Endorsed

by

our Leaders
I am overwhelmed by how good this magazine is in content, attention to the ages, plenty of fun intertwined with Islamic values, inclusive of different ethnicities, abilities, and wonderful illustrations.
In United States & Western world, where Muslim children are deprived of sound Islamic knowledge, Atlasia has filled a great vacuum. The magazine presents Islamic values, arts & culture in a very attractive fashion. Children love its beautiful design & attractive style. I wish great success to authors & producers of this magazine.
Artfully produced, each issue features ideas that explore meaningful themes on how our children can live lives that reflect the fullness of what it means to be Muslim today. The stories in Atlasia are authentic and powerful, the art is alluring and evocative, the lessons are profound and timeless. This magazine challenges mind, strengthens the faith, and balances intellect and imagination perfectly."
Atlasiakids is a much needed addition to building a well-rounded Muslim child who is both connected to their faith and excited to learn about it. I recommend it for parents, schools, community centers and anyone interested in fun activities with a purpose.
The magazine Atlasia is genius. It is interesting, well written, beautifully designed, and chock full of fun activities for children of all ages. This is the kind of magazine I wished for in my early years as a young mom, and I am so excited to gift a subscription to my grandchildren.


What They Say
Our

Happy

Readers
I put my magazine near my bed, so I read it again when I want, and before sleeping! I am a fan of the magic land/world of Atlasia!
I immediately love this magazine that we read at home. There are lots of jokes and great stories to enjoy! Thank you!
Atlasia is a wonderful magazine for children who want to discover new things like me. I get chances to explore the countries in each issue. It is great! There is also the news with the fantastic info!
Atlasia has so cool illustrations, and it makes me so happy when I get from the mailbox. I can already read a little on my own. There lots of stories and DIY projects to make with my brother. There is information that tells us what is going on in the world and what other children think.
I love puzzle and comic pages much more. I also really enjoy riddles. Thank you, Atlasia for making my days enjoyable!
Atlasia can create a sense of warm belonging and a strong community. And who doesn't love the finding of a delightful Muslim kids' magazine in the mailbox? Thank you so much!
Atlasia is a great magazine for Muslim kids. It is hard to find age-appropriate Islamic materials for lower primary kids. It helps to improve Islamic knowledge for children and promote a love of Prophets' stories with excitement!
It is such a lovely magazine! I have been searching for a magazine like this for years. It contains safe and qualified material from the beginning to the end. Really loved reading it with my two-small people. I feel so lucky to find you and thank you!
Arrived on time, as expected, and as described. Very pleased. The kids love it. I would order again. The last five pages are dedicated to puzzles, riddles, and fun games, which are just superb!
When my wife ordered Atlasia Kids, my oldest daughter Bayyina took a look and noticed that she is going to be busy with it this Ramadan. You are the best!